What's the Difference Between a Grille and a Register?
Definitions
The term grille is commonly applied to any air outlet or intake that consists of a square or rectangular face and neck, and whose facial appearance is made up of stationary or adjustable louvers which may be used to deflect the air.
A register is simply a grille which incorporates an integral damper for air volume control.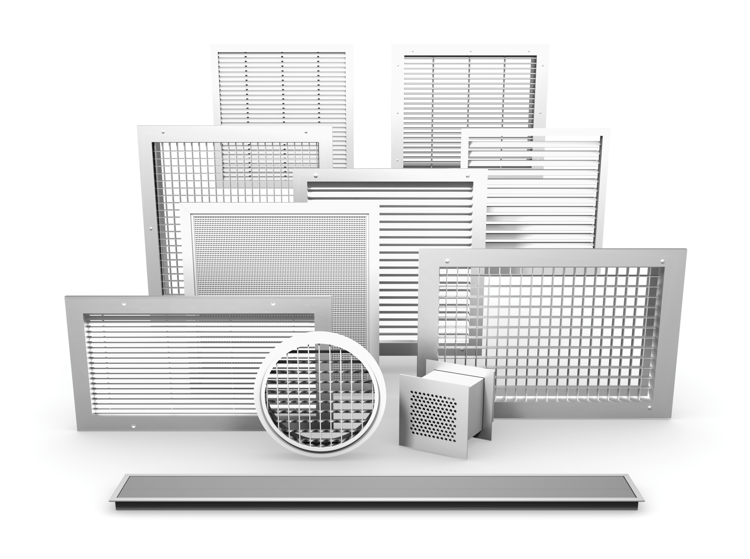 -
-------------------------------------------
What is a Diffuser?
A diffuser is an outlet which discharges supply air in various directions and planes, and serves several purposes:
Evenly distributes the flow of air in the desired direction(s)
Enhances the mixing of room air by entraining the room air into the diffuser's primary air jet
Delivers both conditioning and ventilation air to the occupied space
Reduces the velocity of the air as it passes through the system
Often uses Coanda Effect to attach a jet of air to the ceiling or other surface
Can be integrated into architectural ceilings to enhance aesthetic appeal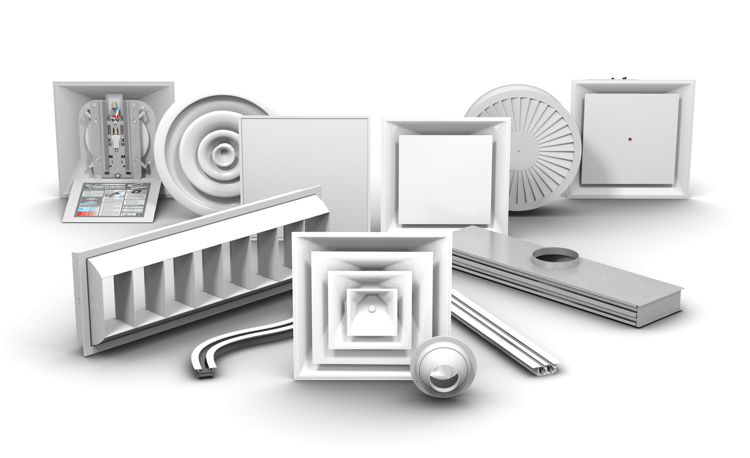 An important step to efficient space comfort conditioning is the proper selection of air outlets. This section presents generalized descriptions and characteristics of the types of grilles,registers and diffusers which are commonly used in commercial air distribution applications today.
-
-------------------------------------------
Linear Slot Diffusers
T-Bar/Plenum Slot Diffusers
T-bar/Plenum slot diffusers are designed for use primarily in t-bar ceilings, but can also be used with a plaster frame for surface mount installations. Diffusers consist of a factory fabricated plenum with integral pattern controllers, typically adjustable for either vertical or horizontal air pattern. These linear slot diffusers are offered in an array of different pattern controller configurations to suit different performance and economical requirements. Plenum slot diffusers are easy to install as they are designed to lay-in on suspended ceiling grids. This feature also provides flexibility for future tenant revisions.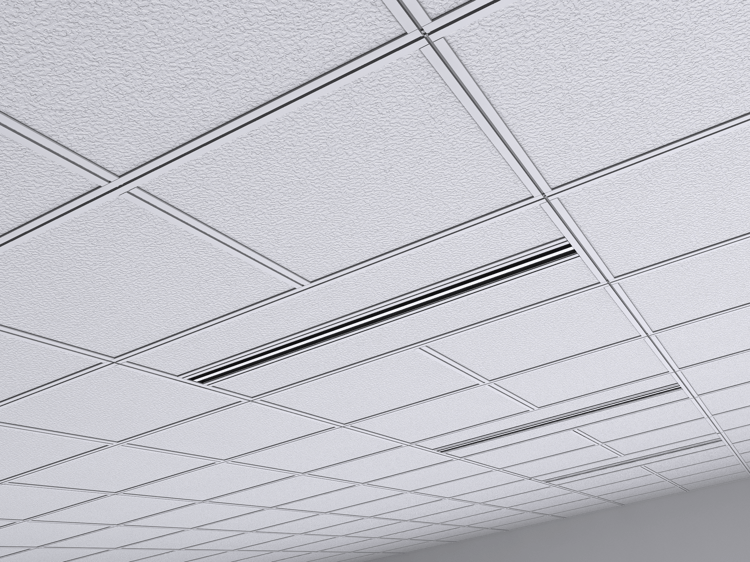 T-bar slot diffuser in office application
Architectural Slot Diffusers
Architectural linear slot diffusers use extruded aluminum frames to provide aesthetic appeal, particularly when supplied in continuous lengths. Linear slot diffusers incorporate adjustable pattern controllers in a multi-slot configuration for maximum flexibility. In addition, these diffusers typically offer curved frame options to blend in with unique architectural pieces.

Linear Slot Diffuser
Slot sizes are typically available in 1/2 inch (13 mm) to three inch (76 mm) widths and a choice of one to ten slots, depending on the model type. Adjustable pattern controllers allow horizontal left or right, or vertical discharge for maximized performance.
-
-------------------------------------------
Linear Bar Grilles
Linear bar grilles are often used for their architectural appeal and versatility. These grilles may be mounted on the sidewall, sill or floor, and may be used for supply or return applications. Available in continuous runs, these grilles are ideal for conditioning perimeter spaces, especially if floor mounted products are required. Certain models are also available in flat face, convex, or concave curved sections, and feature custom mitered corners.

Linear Bar Grille
Linear bar grilles are available with ten core options, three construction levels, and multiple frame styles for maximized flexibility.
------------------------------------------
Ceiling Diffusers
Square Cone Ceiling Diffusers
Square cone ceiling diffusers consist of several concentric square cones and a round neck. The air pattern is a uniform 360 degrees horizontal pattern. This horizontal air pattern is maintained at extremely low flows, making it ideal for variable air volume (VAV) applications. An adjustable version for either horizontal or vertical applications is also typically available.
Square Cone Diffuser
Sizes are available to suit standard ceiling modules:
12 x 12 inches (300 x 300 mm)

20 x 20 inches (500 x 500 mm)

24 x 24 inches (600 x 600 mm)
Square Plaque Diffusers
Square plaque diffusers are comprised of a square plaque situated in a back pan with a round inlet. The air pattern produced is a uniform 360° circular pattern, which is maintained even at very low velocities, making it ideal for VAV systems.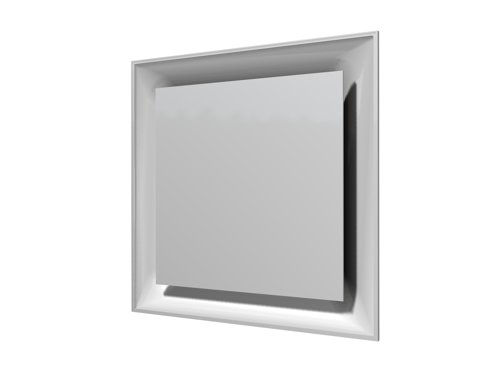 Square Plaque Diffuser
Sizes are available to suit standard ceiling modules:
12 x 12 inches (300 x 300 mm)

20 x 20 inches (500 x 500 mm)

24 x 24 inches (600 x 600 mm)



Louver Face Diffusers
Louver face diffusers are available with a square or rectangular face composed of a fixed modular core. This modular design allows for the selection of a 1-, 2-, 3- or 4-way air pattern. Neck sizes are square or rectangular.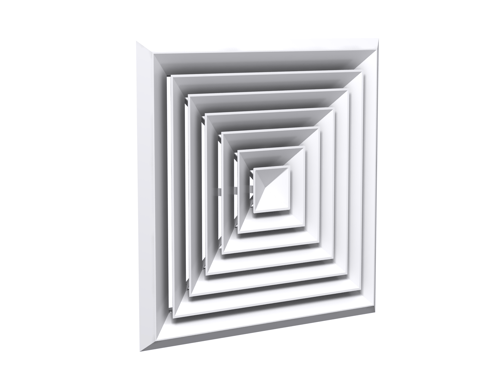 Square Modular Diffuser
Louver face diffusers are typically used to move large volumes of air, or when long throws are needed. In addition to the design flexibility, the louver face diffusers are popular with architects because the louvers do not protrude below the ceiling line.
Perforated Ceiling Diffusers
Perforated ceiling diffusers are built with a square or rectangular face supplied through a round or square neck. Horizontal air pattern is achieved with deflection vanes located at the diffuser face or in the neck. The vanes can be configured to achieve a 1-, 2-, 3-, or 4-way air pattern.

Perforated Ceiling Diffuser
The perforated face blends in well with the acoustical tiles of typical suspended ceiling systems and is therefore preferred by architects. Perforated return units, both ducted and non-ducted, are also available to match the supply units.
Radial/Twist Diffusers
Radial/twist diffusers consist of a circular or square face with multiple air vanes, either fixed or adjustable, and a round neck. These diffusers can produce a horizontal or vertical twisting pattern for rapid mixing of the room air in heating or cooling modes.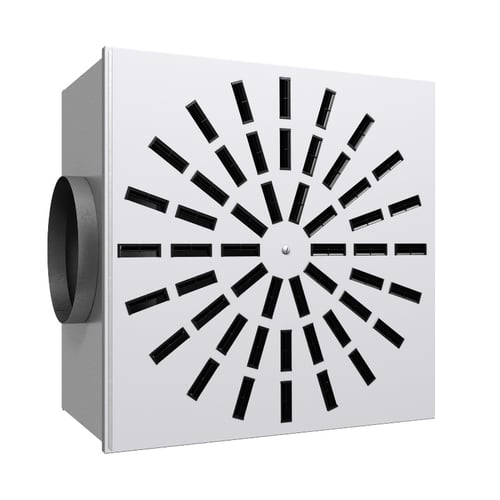 Radial Slot Diffuser
Diffusers can be installed in a T-bar ceiling or exposed mounted to the ductwork. Models are available for both commercial and industrial applications. Typically available with either side or top inlet connections, the side inlet option is ideal for applications with limited ceiling heights.
------------------------------------------
Grilles and Registers
Single and Double Deflection Supply Grille
Supply grilles and registers usually have adjustable louvers and are available in singe or double deflection models.
The single deflection type includes one set of blades in the horizontal or vertical orientation. Air pattern is adjustable in one plane only.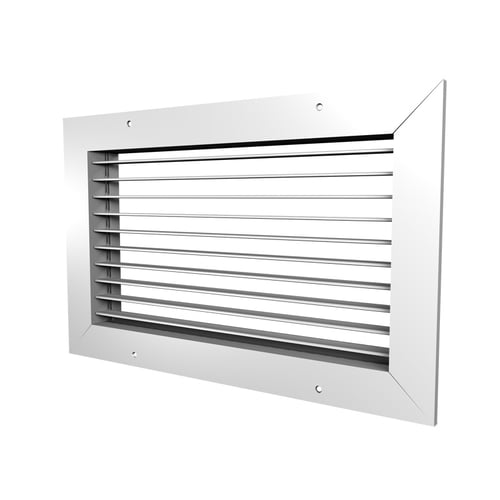 Single Deflection Grille
The double deflection type includes two sets of blades in both the horizontal and vertical orientation, with the air pattern being adjustable in both the horizontal and vertical planes. Adjustment of the horizontal blades provides control over the deflection of the air pattern. Air can be directed up or down to suit the application.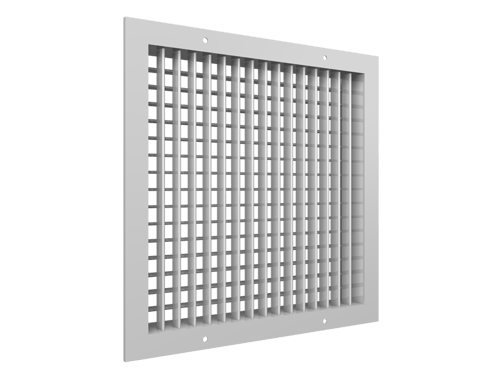 Double Deflection Grille
Supply grilles or registers are most commonly mounted in the sidewall within two feet (610 mm) of a ceiling. Return grilles or registers usually have a fixed blade or core and can be located in the sidewall or ceiling.
-------------------------------------------
Industrial Applications
The purpose of an industrial ventilation system is to reduce exposure to excess heat and contaminants generated in an industrial environment. The most effective method of removing excess heat and contaminants is at the source with a local exhaust system. Another method is dilution with general ventilation by either a fan system, natural draft or a combination of the two. In some cases cooling is required to maintain acceptable space conditions, either for people or processes. Many industrial applications require a combination of local exhaust, general ventilation supply and general exhaust to handle simultaneous removal of heat and contaminants.
Industrial Air Outlets
Due to the unique and extreme conditions experienced in the industrial environment, specific air outlet models have been developed for this application. Those include:
Industrial Supply Grilles and Registers

Drum Louver Diffusers

Nozzle Diffusers

Industrial Return Grilles and Registers

Security Grilles

Industrial Supply Diffusers
Industrial Supply Grilles and Registers
Similar to commercial models, industrial grilles and registers have adjustable louvers in single or double deflection, but the louvers are typically deeper and spaced wider. The deeper louver is stronger and more effective for pattern deflection. Construction is generally extruded aluminum louvers and heavy duty aluminum or steel frame.
The heavy duty construction of industrial supply grilles and registers can withstand frequent adjustment, high velocity and air volumes, turbulent supply air and contaminants in the air stream.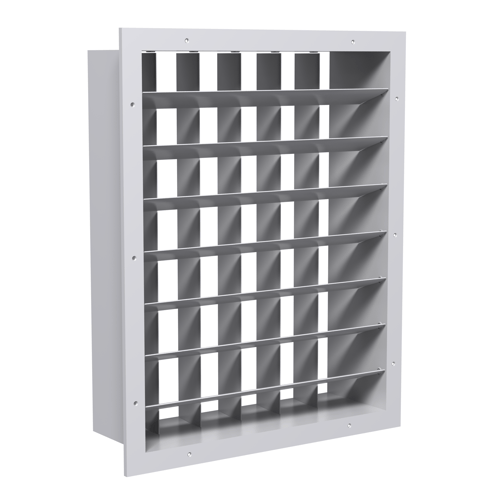 Industrial Supply Grille
Drum Louver Diffusers
Drum louvers consist of adjustable vanes mounted in a rotating drum which is adjustable up or down to provide directional control of the air pattern. The deep adjustable vanes can be used to achieve varying amounts of spread pattern. The depth of the drum and vanes produces a long air projection and high degree of directional control. Construction can be heavy gauge steel or extruded aluminum.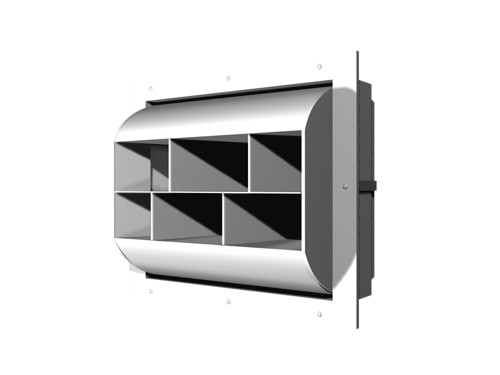 Drum Louver Diffuser
Nozzle Diffusers
Similar to the drum louver, the nozzle diffuser achieves very long air projection due to its depth and geometry, and are ideal for spot cooling applications. Generally round in shape, nozzles are available in a variety of models, including adjustable versions which allow directional control of the air pattern. Construction can be steel or aluminum, and options for throw and spread adjustments.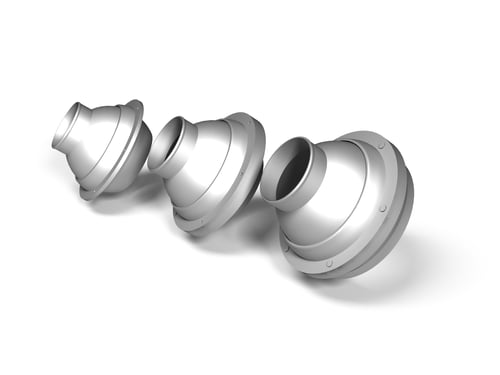 Nozzle Diffusers
Industrial Return Grilles and Registers
Industrial return grilles or registers have fixed blades of various deflection and blade spacing and are constructed of heavy gauge steel or extruded aluminum with welded frames. The heavy duty construction of these grilles also make them ideal for gymnasiums, schools, and other applications where rough treatment of the grilles is expected.
Industrial Return Grille
Security Grilles
Security grilles are an excellent option for severe industrial environments and institutional applications to reduce unwanted access to ductwork in spaces where supervision is minimal and vandalism or misuse is a risk. These areas include, but are not limited to, correctional facilities, psychiatric hospitals, rest stops, park facilities, schools and sports venues.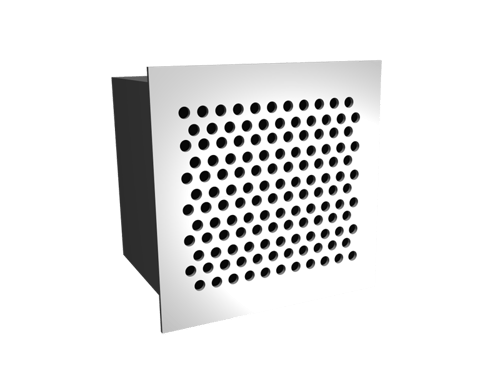 Perforated Security Grille
Look for tamper-proof screws for minimum security applications, like hallways. For medium and maximum security applications, reduce the risk of damage and disassembly associated with traditional grilles in secure areas with features like all-welded construction, integral wall sleeves and thread resistant cores.
Round Cone Diffusers
Round Cone industrial supply diffusers are often used where high flow capacities and rugged construction are required, like supermarkets, gymnasiums, halls, and factories.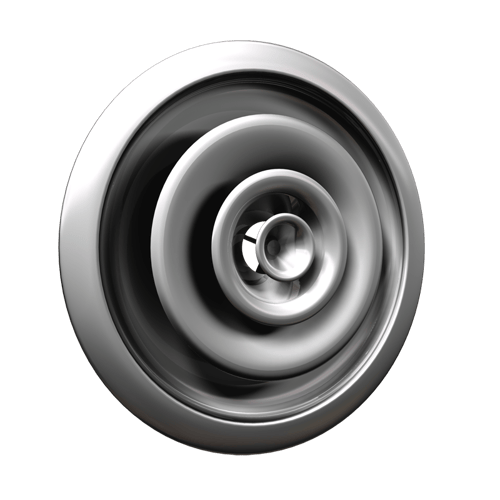 Round Cone Diffuser

Round cone diffusers are often used to provide an excellent horizontal pattern, even in exposed ceiling applications, due to the unique frame design. Most models are also adjustable to provide angular, or vertical throws to suit most applications and are ideal for VAV applications.
Industrial Air Outlet Construction Features
When selecting outlets for industrial applications, there are several construction and functional features to consider.
Supply grilles or nozzles should include a means of adjusting the direction of airflow to facilitate changes to the work area layout or due to seasonal variations.

On multi-blade grilles, a gang operator option simplifies blade adjustment.

To prevent grille blades or the nozzle drum from moving under the influence of duct vibration, a locking mechanism is recommended.

Quick-release fastening frames are available for easy removal and replacement for cleaning.

Filter frames are

available

for return grilles to help keep the duct work clean from room side debris.

Heavy duty industrial grade balancing dampers with a locking mechanism.

Use heavy duty gym grilles or security grilles for return applications to prevent damage in low areas.
-------------------------------------------
Finish Guide
A variety of finishes are available to suit multiple design and application requirements.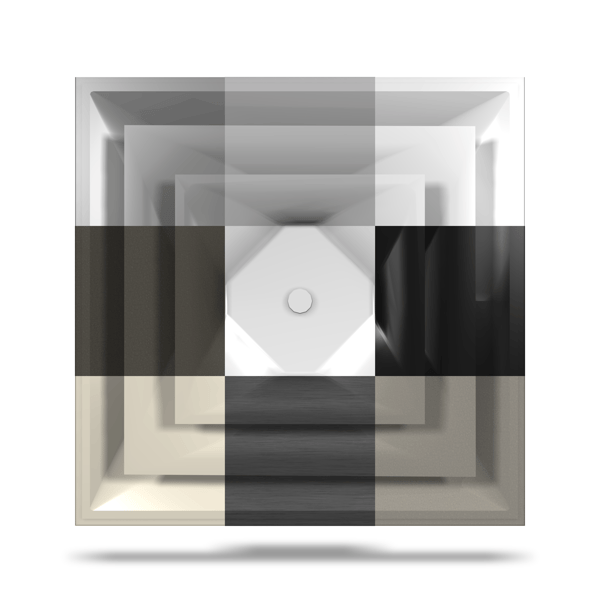 Powder Coat
Durable finish, resistant to corrosion, handling and wear, even from harsh hospital grade cleaning solutions

Surpasses 1,000 hour salt spray test

Optional anti-microbial additive available to prevent growth of micro-organisms on painted surface

Variety of standard colors available.



Anodizing
Existing aluminum oxide is enhanced and grown out of the aluminum through anodizing, creating a surface that is harder and more resistant to corrosion and abrasion than raw aluminum.

Six (6) standard colors available.



Wood Grain Finishing
Woodgrain finish on aluminum products.



Other Finishes
Mill Finish: Untreated, unpainted aluminum from the mill.

Washed Mill Finish: Factory washed and cleaned, unpainted aluminum.

Brushed Aluminum: Brushed aluminum with clear coat.

Custom Powder Coat: Custom colors and simulated anodized finishes accurately matched to customer supplied color samples.



-------------------------------------------
download the Grilles, Registers & Diffusers Product Guide today!
This condensed guide will help you understand how GRD products work and where they fit into your day-to-day projects and designs. The guide is a simplified version of the information in the Price Engineer's Handbook, which is an industry-leading compilation of HVAC knowledge from our experienced HVAC engineers.
Enter your contact information to download your copy today and have this information available anytime you need it!